Shower Seats
Wall mounted fold-away shower seats
Showering solutions for the home, nursing home and hospital
Comfortable and hygienic shower seats are easily fitted to any type of wall construction, in the shower or bathing area. All models fold away for ease of storage and can be supplied with an optional Surefix kit, for securing to stud partition walls.
Seat styles - Flat padded - standard option Aperture or horseshoe seat options available to special order. Each seat provides specific benefits for the user. Flat padded seats offer extra comfort, while the aperture seat allows ease of washing and the horseshoe seat good front access for ease of washing.
Hygienic - the sealed seat base reduces the risk of bacterial growth.
Rot proof material - the base of the padded seat is made from polypropylene, sealed against water ingress.
Adjustable leg height - can be adjusted in height by 50mm to suit user requirements. This allows the seat to be positioned level, with a slight incline, or recline as required and allows for uneven floor surfaces.
Easy fit - Easy to fit and remove and with full fitting Instructions supplied.
Click here to download a copy of our brochure
Technical Specification & price guide
Surefix Wall Fixing Kit
To ensure safe fixing to timber studwork, soft blockwork or masonry walls a Surefix wall mounting kit is available, shown left.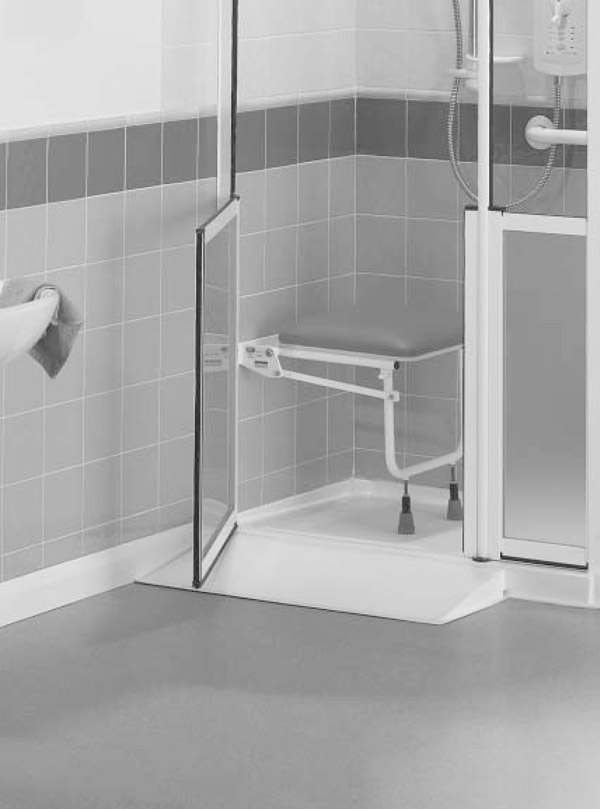 Wall mounted models with legs Maximum user weight 200kg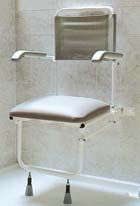 TUW19P
Flat padded seat
Adjustable leg height

TUW13BL
Flat padded seat with legs
Adjustable leg height
TUW14L
Extra width flat padded seat (860mm seat width or 600mm seat width)
Adjustable leg height
TUW15L
Flat padded seat 600mm seat width (not pictured)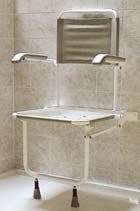 TUW19
Nylon reinforced PVC with backrest and folding arms
Adjustable leg height

TUW18
Nylon reinforced PVC
Adjustable leg height
"Thank you for your prompt, polite service from our initial phone call to the gentleman who did the service. It is a pleasure to find such kind and friendly people to deal with"
P B, Croydon