TransAqua Stainless Steel Shower & Toileting Chair Range
The TransAqua range of shower commode chairs has been developed to provide a modular bathing and toileting solution which can be easily adapted to alter with the user. The chairs innovative modular design allows each component to be retrospectively replaced as the users needs change. Seats, armrests and footrests are interchangeable, the width of the frame can be increased/decreased* and the chair can be convert­ed from self propelled to attendant propelled and vice versa.
* replacement backrest, cross member and seat required.
If you are a healthcare professional and would like to obtain copies of our detailed TransAqua assessment forms and Codebreaker these are available for download in the Professionals area of our site, please log in to your account or request a account set up here.
Free of charge demonstration visits are available upon request, please contact our customer services team on 01869 365500 opt 1 or email us at sales@chilterninvadex.co.uk for details.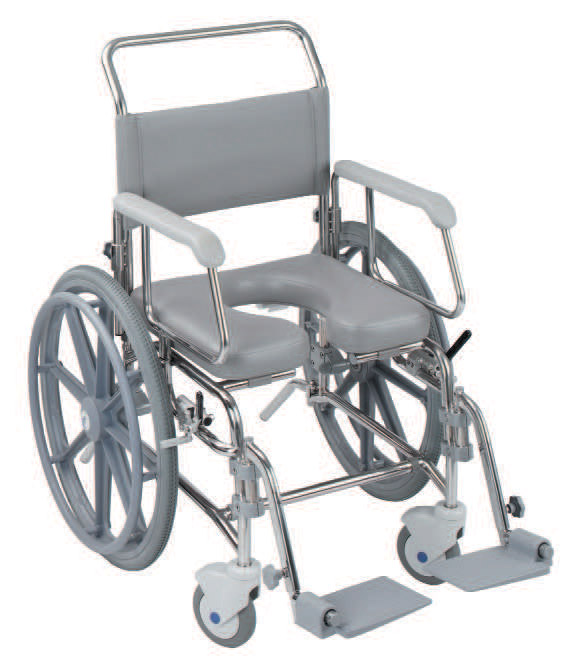 Safe working load 200kg (31st) (440lb)
The chair features a stainless steel frame with corrosion resistant wheels and castors.
Armrests and footrests swing away to aid transfer.
Several footrest options are available, each is height adjustable to ensure that the user is in a comfortable position.
Seats are available as flat padded, full ring aperture or horseshoe with a range of aperture sizes to suit the user.
Can be used over a toilet or provided with a commode pan and cradle.
19" and 21" chairs are Clos-o-mat compatible.
Self propelled models can be provided with 20", 22" or 24" wheels.
Attendant propelled models are provided with four braked castors, directional locking castor available on request.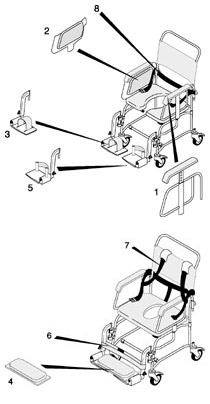 Height adjustable armrests – from 160mm-275mm height (from the seat)
Side pads (1", 2", 3" options to alter internal seating area of chair)
Foot rest with toe straps
Foot pad (clip on)
Footrests with heel straps
Calf strap
Full support harness
Waist strap
Commode pan (not shown)
Footrests with heel straps/toe straps(not shown)
Short footrests (not shown)
90 degree footrests (not shown)
Padded foot tray (not shown)
Head support (fully adjustable)
Clos-o-mat model available fitted with extra spacers to provide the necessary clearance
"Thank you for all your help and support on the project. As a company we will be using your services in the future on up and coming projects"
Createability Ltd