Washington Tilt in Space Shower Cradle
Following the successful launch of the AquaMaster Tilt in Space Shower Chair in 2012, Chiltern Invadex have been working to develop our specialist showering range and are now pleased to announce the introduction of the Washington Tilting Shower Cradle.
The popular Washington Cradle was introduced in 2001 and was designed specifically for users with multiple sclerosis, cerebral palsy, motor neurone disease and clients with fixed hips, legs of contractures. It is also particularly beneficial for those experiencing involuntary movements and rapidly deteriorating body conditions.
This level of support has now been combined with the benefits of a tilt in space shower chair providing a comfortable and secure bathing solution with a seat recline of between 5 and 35 degrees.
The new tilting cradle is available in three standard sizes; small, medium and large. In addition, custom made models can be designed to suit specific user needs. Each is complemented by a carefully designed range of padding and support option configurations which can be combined to create a user specific support system providing both comfort and security.
The removable fabric not only allows for hygienic laundering, the simple buckled strap design also allows easy adjustment of the fabric, creating a hammock effect to support the user as required. An aperture can be provided within the fabric to assist with bathing.
Side rails are available as an accessory to provide additional security where required, these can be combined with a range of lap straps, harnesses, head, and thoracic support cushions.
The corrosion resistant stainless steel frame is coated with a durable white polyester dip coating with an anti-microbial additive to protect against MRSA and comes with a 5 year warranty*.
Key benefits:
Offers a safe, controlled and comfortable showering position for those with severe physical conditions
Corrosion resistant stainless steel and nylon braked castors. Directional locking option available
Dual gas struts ensure smooth reliable operation via a single hand control lever
Frame coating includes a silver anti-microbial additive proven to reduce levels of MRSA by at least 99.9%
Full 12 month warranty (*5 year warranty on the frame)
Carries the CE mark in accordance with the Medical Devices Directive
Competitively priced
Colour coded edging strips give a clear indication of cradle size (red = s, yellow = m, green = l)
For further information or to arrange for a free of charge, no obligation demonstration or survey visit, please contact Customer Services on 01869 365500 (option 1).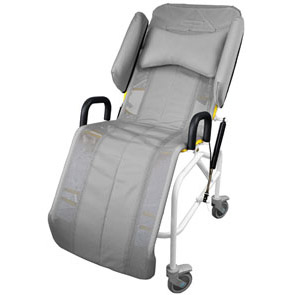 "Thank you for all your help and support on the project. As a company we will be using your services in the future on up and coming projects"
Createability Ltd